Startups
What gets an investor's attention
During investor outreach, startups often forget the investor's perspective. Changing this point of view can increase a startup's chance of getting noticed.
---
Startups often hear the advice:
"You need a great story to get an investor's interest."
There's nothing wrong with this advice. Compelling narratives are valuable and helpful during fundraising.
However, sparking interest isn't the initial goal when approaching a potential investor. When they first look at your pitch, their question won't be: "How interesting is this startup's story?" It will be: "Is this startup worth my time?"
This question defines an investor's behavior during pre-screening. In this article, we uncover what essentials a startup needs to answer that question, and how Hopohopo.io can optimise the process.
Eliminating 80% right away
The deal flow of a VC firm includes a large amount of daily startup pitch messages. Unfortunately, with such a high inbound volume, most of the messages are usually irrelevant to the VC.
Out of 500 startups reaching out to an investor, only about 100 go forward to a thorough evaluation stage. It means nearly 80% of startups are filtered out already in the pre-screening phase.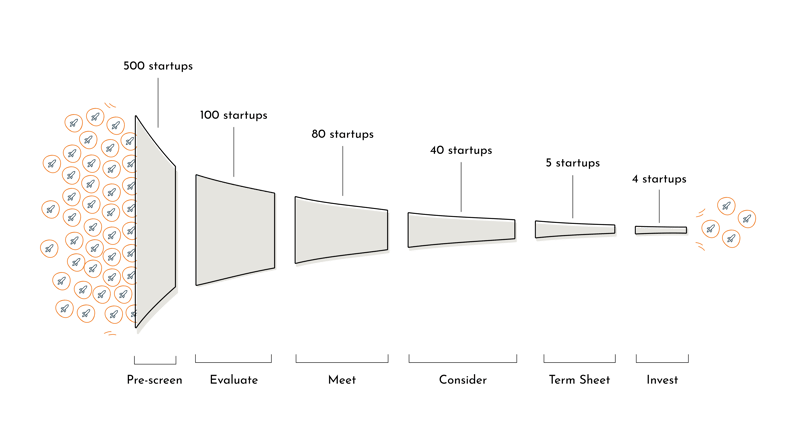 The VC aims to achieve that filtering as fast as possible. A DocSend research tells that an investor spends around 3 minutes 44 seconds looking at a pitch deck. The trick in this number is that it shows the average. In reality, during manual filtering, the most frequent time span is nearly 40 seconds per deck.
40 seconds is not enough to pay close attention to details. Investors simply try to understand if a startup is a complete miss for their deal flow or not. Such a quick skimming can cause investors to miss cases that might be actually interesting.
To try and not get missed out as a startup, you have to find a quick way to convince an investor you're worth their time.
The Positive Triage of Startups
Analysis of over 2,000 VCs and Business Angels using Hopohopo.io showed three key criteria that investors pay attention to during their initial screening of a startup. Our platform applies these insights to help startups connect with the most relevant investors passing over the harsh pre-screening phase.
1. Numerical traction.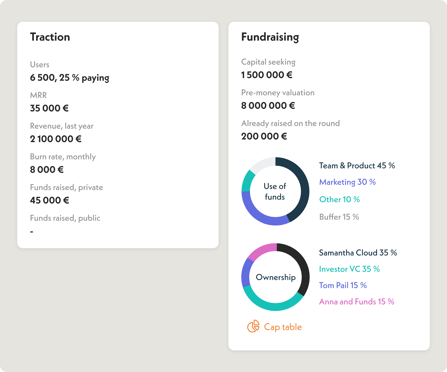 Do you have any revenue or user traction? Have you already raised funds and do you have existing investors?
This data allows investors to easily quantify your startup's potential and align your scale with their investment preferences.
2. Domain expertise or something exceptional in the team.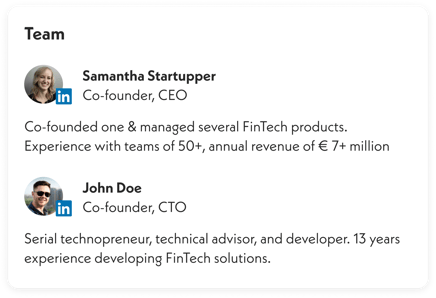 Is your team able to tackle the problem at hand? Does the team have any accomplishments that can help successfully deliver the project?
Your team capabilities are a very important indicator for the investor.
3. Problem-solution fit.
This is somewhat subjective. If the first two criteria are met, this aspect automatically gets a green light. If not, it becomes dependent on the investor's personal perspective. Nevertheless, it's crucial to make the problem-solution fit clear and easily noticeable.
Takeaway
It's worth mentioning, that applying the above criteria only makes sense if your startup is relevant to the investor.
We make sure a German FinTech startup doesn't reach out to a VC specializing in Nordic healthcare. Otherwise, no domain expertise would help the mismatch.
Once you've captured the investors' attention, they will be ready to delve into your captivating business narrative. Here, the advice for a good story comes back with its full importance.
But for your initial outreach, make sure to include something quantifiable in your message. It will increase your chances to get forward and help investors notice you.